Article originally published in French on the LinkedIn website, August 4, 2023 - From our Founder & President Emeritus, Jeannine Lafrenière - This project is dedicated to the memory of Madame Simone Castonguay (Gour) of Gatineau, Québec.

AN ENCOUNTER, INSPIRATION, CREATIVITY = A PROJECT

Does an encounter have the power to inspire us and lead us to creativity?

Such was the case on January 19, 2017, when I met Mrs. Simone Castonguay, a resident of the Residential and Long-Term Care Centre (CHSLD) Ernest-Brisson in Gatineau, during the construction of the Foundation's first project, a living wall.

Plants had always been part of Mrs. Castonguay's life. When she had to move to CHSLD Ernest-Brisson, she missed her plants enormously. When her daughter, Francine Gour, picked her up that morning to show her the living wall under construction, her reaction was very emotional. Her plants were back in her life.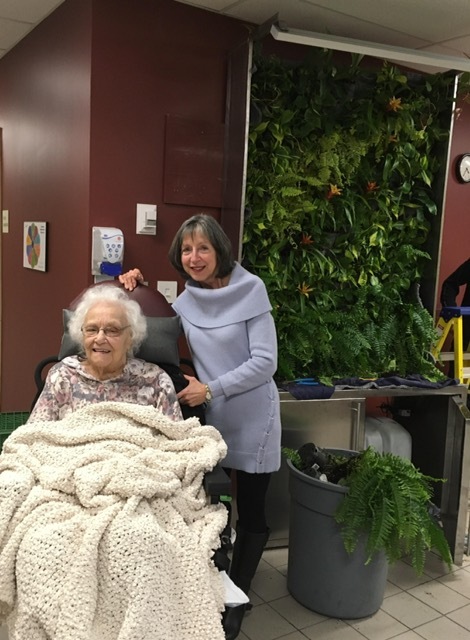 Seeing the joy and emotion this lady felt when she saw the wall of living plants, and understanding why she was so emotional, convinced me that I had to bring a different kind of project to these facilities. A project that would bring another dimension to the residents and enable them to relive precious moments.
And if YES is the answer to my first question, are we going to go ahead with what at first seemed so far back in time....?
Four years later, in May 2021, following the construction of our third living wall at the Aline-Chrétien Health Hub, I decided that the time had come to go ahead and launch a new project for healthcare facilities: raised indoor garden planters equipped with an adjustable support on wheels for people with limited mobility.
Once again, the stars aligned.✨
A LinkedIn meeting with Beatrice Javaudin, who put me in touch with her daughter, Angela Nauleau-Javaudin, and a phone call with Eric Gagnon, Manager of CHSLD Lionel-Émond, who told me after explaining the project: "I am in and I want them in my CHSLD!", gave me the green light to go ahead with this innovative project. Let's not forget that this type of planter, as I had imagined it, was non-existent in Canada.
A multidisciplinary team of volunteers, * including CHSLD managers, occupational therapists, health and safety advisors, and infection prevention and control advisors, coordinated by myself, was set up to see if such planters could be considered for use in CHSLDs, and then to look into the feasibility of manufacturing them.
The first step was to introduce the raised indoor garden planters, (fixed health planter), without the adjustable support on wheels, to CHSLDs. They have been there since November 2021, thanks to the company, Lee Valley Tools, who donated the first three planters to the Foundation to pilot the project AND to the good advice of an expert in ornamental horticulture, Mr. Claude Vallée. Within a short space of time, our multidisplinary team and the staff could see the benefits they brought to residents: wonder, joy and relief.
The second stage of this project involved the design and construction of an adjustable stand on wheels for these indoor garden planters, specially designed for people with reduced mobility. Three prototypes were produced, following recommendations from the multidisciplinary team, the first by Angela Nauleau-Javaudin and the last two by DK-DI, manufacturers Joel Kucer and Guillaume Dubeuf of Montréal.
Today, in August 2023, it is with great joy that I announce that the adjustable support on wheels has just gone into production with the aforementioned DK-DI company. It was approved for use in CHSLDs at the end of July, after two years of consultation and testing.
The indoor planter with an adjustable support on wheels (ajustable and mobile health planter) for healthcare facilities will be officially unveiled at the Foundation's Celebration Soirée on October 21.
Unfortunately, Mrs. Castonguay will not be able to enjoy it, as she passed away one month after the first living wall was installed. However, I dedicate this project to her, as she was my source of inspiration.
My sincere thanks go to the multidisciplinary team* who believed in this project, who supported me, who helped me and who collaborated with me on a voluntary basis over these two years. These people have made a fundamental contribution to the realization of this project.

A special THANK YOU to the French company MV Industrie for its invaluable advice in the construction of the ajustable support on wheels.
And let's not forget all the other people who have helped me in one way or another with this project.💚
The conclusion of this story is that you should never underestimate an encounter or let an inspiration pass you by, however fleeting it may be!