Our first project materialized on January 19, 2017 with the installation of a living wall donated by the Foundation to the CHSLD Ernest Brisson. Well, three years later, it is still very much appreciated. We have received another letter regarding our first wall. (see previous letter of October 7, 2017) We are happy to note that despite the pandemic, things are still going well.
Note: This is not a true translation of the original French letter. With the author's permission, this is simply an interpretation of the essence of Marie-Helene Carle's letter.
Gatineau, July 23, 2020
Subject: Living Wall
I wanted to share with you some thoughts related to the living wall that decorates our activity room at the CHSLD Ernest Brisson.
As soon as one enters the Centre, this arrangement of greenery draws people's attention. Initially, they are curious and want to draw closer, to see it better. It's beautiful.
Here, the living wall helps to maintain a connection with nature. I regularly observe families looking at it and discussing it with their resident loved ones. With some residents, it can be used as a therapeutic aid to initiate an exchange, to capture their attention and soothe them.
Once we work or visit the CHSLD regularly, the living wall is simply part of the environment.
Does it attract our attention a little less? Sure, probably.
Does the wonder fade? No.

The living wall is not simply a decorative element that we get used to. It is seen and recognized as living thing, something we enjoy tending, and something that remains unique.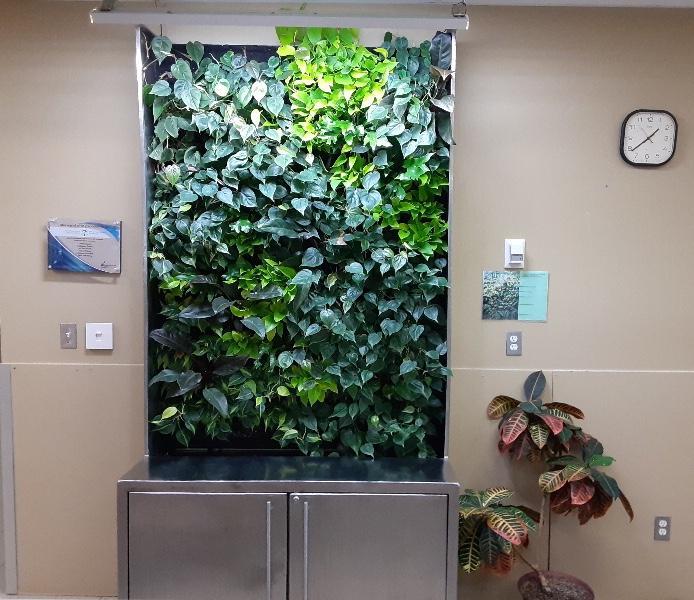 Over the past months, our routines have been turned upside down and some maintenance appointments had to be postponed. Without need for consensus, some of our staff were interested enough to ensure that our wall continued to thrive with as few lost leaves as possible.
During this period, while our thoughts are preoccupied with all sorts of issues, more than once I was surprised to find myself passing in front of the wall and observe that nature is beautiful! Just a small thought…
In fact, I rather think that the living wall has more than one benefit! Not only does it purify the air and transform the CO2 into oxygen but, for just a few seconds, it allows the viewer to appreciate very simple things: the colours of nature.
I wanted to share these reflections with you, to thank you and to add that the living wall at the CHSLD is doing well and is very much appreciated.
Marie-Hélène Carle
Coordinator, Living Environment, East Sector
Senior Independence Support Directorate
Outaouais Integrated Health and Social Services Centre