Article originally published in French on the LinkedIn website on April 14, 2023, written by our Founder & Emeritus President, Jeannine Lafrenière 
A MOVING AND EMOTIONAL EXPERIENCE

Last week, I was able to attend a gardening activity at the Lionel-Emond Residential and Long-Term Care Centre (CHSLD) in the Hull area of Gatineau, Québec. Relaxing and creative, gardening is an activity that is particularly appreciated by seniors, as well as stimulating their cognitive and motor skills.
One of the reasons I attended this activity was to personally observe the testing of the raised indoor garden planter equipped with a prototype adjustable support on wheels* developed for people with limited mobility.
Although the management of several CHSLDs have sent me very positive feedback about these activities since installation in their establishments in November 2021, I was unexpectedly moved at seeing, with my own eyes, the tangible results of a pilot project that a interdisciplinary team and I have been working on for two years. It was very touching, and I would even say full of beautiful emotions.
Seven residents participated, some in wheelchairs and others using walkers.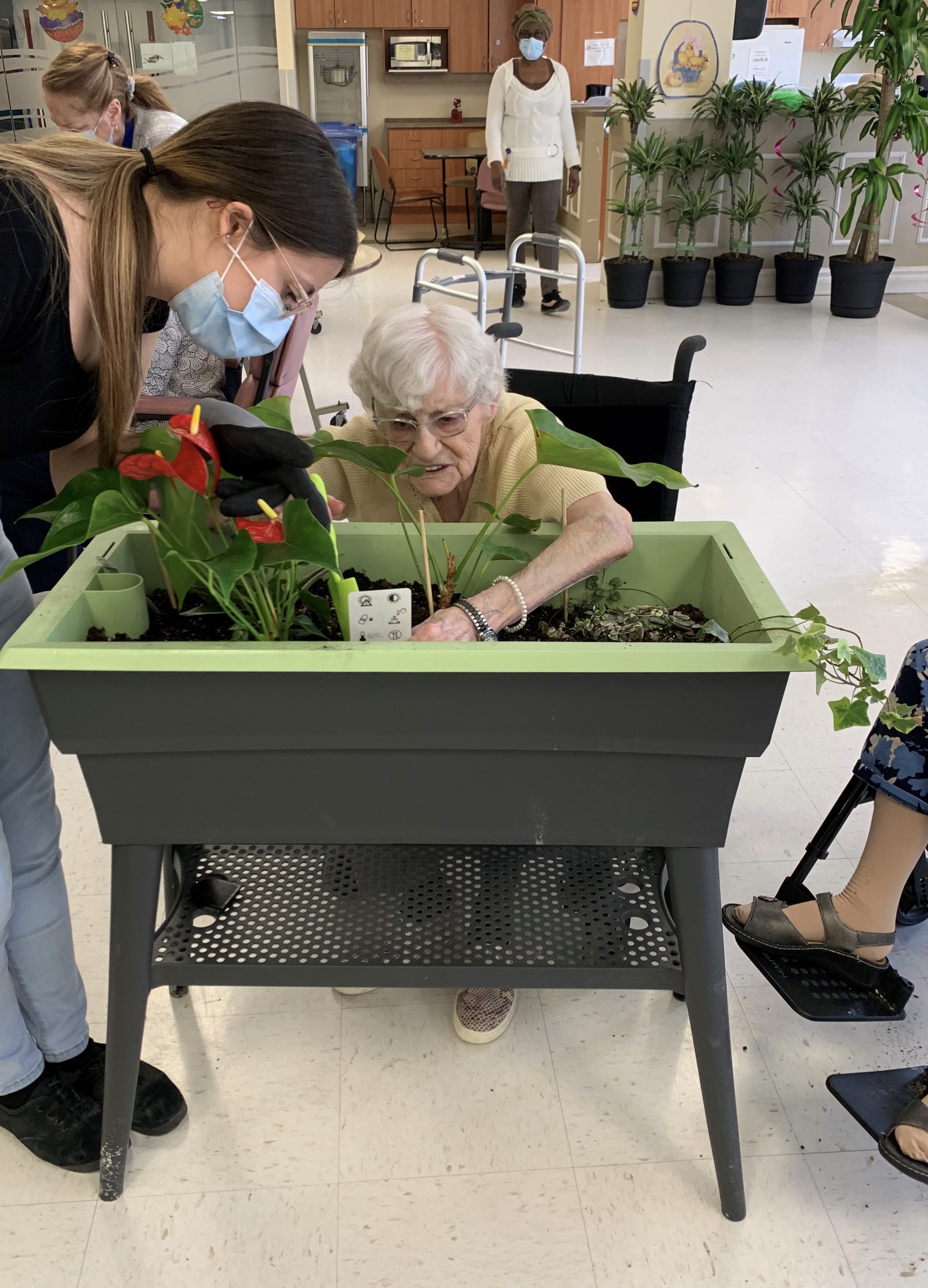 During those precious moments spent with them, I was actually reduced to joyful tears as I observed their delight when they realized they were going to plant flowers. They then enthusiastically discussed and helped determine which plants should go where, and finally got their hands in the soil.  I must admit that I never expected to be so touched.
As the initiator and the person responsible for this project, their smiles and the happiness I saw in their eyes, as well as their reactions and positive comments were the best reward I could have received for all the volunteer hours spent on this project.
I am more than ever convinced of the need to bring nature into these institutions. Seniors need these moments of happiness, to find and relive what they have already known and loved. In addition to stimulating cognitive and motor skills, gardening becomes a space for discussion, exchange and sharing.
As a society, we can give the gift of Nature to those who are deprived of it. Help us to do this in places where the need is flagrant but often silent because, too often, the voices of these people are not heard.... Please don't forget them!
A special THANK YOU to Ms. Laurence Gagnon for having organized this beautiful activity, one of the goals of which was to test the prototype for people with reduced mobility, and thank you especially for having allowed me to live these precious moments!💚
* The photo of the prototype of the raised indoor garden planter equipped with the adjustable support on wheels is not available to the public.